We meet at:
South Coast Botanic Garden [Map]
In-person meetings have been cancelled. All meetings in 2021 will be held online.
Meeting: 1:00 pm, presentation: 1:30 pm.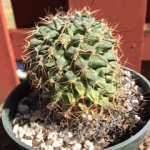 Mammillaria is one of the larger genera in the Cactus family, and one of the most variable.
We are a not-for-profit society operating in California, U.S.A., under I.R. 501(c)(3) rules. More…
We Aim To:
Promote education and cooperation among hobbyists and others interested in the study, culture, and propagation of succulent plants, including cacti.
Support the activities of organizations whose goals include the conservation of cacti and succulents in their native habitats.
Learn facts, make friends, have fun!
Table of points from Mini-Shows.
Rod Haenni has explored the hardiness of thousands of different cacti and other succulents in different settings and microclimates. All…
Gary Duke interviewed by Cactus Quest about ethical plant shopping.