2022-10-09
PRESENTER FOR OCTOBER IS: Paul T. Isley III "Tillandsias"
Meeting: 1:00 pm, presentation: 1:30 pm.
A small (but growing) genus of small plants from Northeastern and Central Mexico.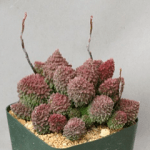 A genus of at least 28 species of small clumping leaf succulents from South Africa.
We are a not-for-profit society operating in California, U.S.A., under I.R. 501(c)(3) rules. More…
We Aim To:
Promote education and cooperation among hobbyists and others interested in the study, culture, and propagation of succulent plants, including cacti.
Support the activities of organizations whose goals include the conservation of cacti and succulents in their native habitats.
Learn facts, make friends, have fun!
Table of points from Mini-Shows.
Rod Haenni has explored the hardiness of thousands of different cacti and other succulents in different settings and microclimates. All…
2022-10-08
Sat Oct 8 9-5pm, Sun Oct 9 10-3pm, San Diego Botanic Garden 230 Quail Gardens Drive, Encinitas, CA Info eventcoordinator@palomarcactus.org
2022-11-04
Resevrations Required Nov. 4-6, 10-5pm Huntington Botanical Gardens 1151 Oxford Road, San Marino, CA Info 626-405-3504