Upcoming Events
Next Meeting
We meet at:
     South Coast Botanic Garden [Map]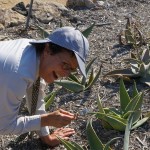 2016-02-14
Marquita Ellias – "Botanical Names Decoded" Feb 14, 2016, 1:30pm.
Special Events
Next Calendar Event
2016-02-13
Feb. 13  San Diego Cactus and Succulent Society, Spring Show and Sale Balboa Park, Room 101, San Diego, CA—Info 858-382-1797
We Aim To:
Promote education and cooperation among hobbyists and others interested in the study, culture, and propagation of succulent plants, including cacti.
Support the activities of organizations whose goals include the conservation of cacti and other succulents in their native habitats.
Learn facts, make friends, and have fun!
Latest News
2016-01-15
Mini Show results with photos of winning plants.
Plant of the Month
Cactus of the Month
Small to medium cacti from USA and Mexico, often with brilliant flowers.
Succulent of the Month
A large and varied genus from all over the globe, many from the Eastern Cape of South Africa.